Talent management is key to the development of any company, because the company is the people, and their growth and success directly affects the achievements and constant development of the organization.
Astghik Sargsyan, Chief People officer of Galaxy Group of Companies, has years-long international experience in HR and talent management, presented the company's priorities in talent management and shared useful tips with Banks.am.
– This year, Galaxy Group launched the Talent Management program. Why this particular program?
– Talent Management is a recognized program in the international human resources management, especially in the case of groups of companies such as Galaxy. The goal of the program is to refine the list of the group's key employees – talents, create replacement matrices, ensure replaceability at each key position and, most importantly, grow future leaders within the organization.
Key employees are identified according to their potential and performance.
The Talent Management program helps the company to recognize the current staff and to get prepared for the future, to have experienced mid-level managers to ensure continuous development of the company. The company's employees are quite excited with the process as they see great opportunities for further advancement and the benefits of being part of a large group.
– From what you've said, we can understand that while selecting candidates for senior positions at Galaxy, preference is given to the group's employees. Why?
– Yes, we want our employees to aspire to high positions, because they know the company better and share our values as they are the bearers of Galaxy's DNA. Our values are quite ambitious, and the company works on a daily basis to strengthen them.
The first of the Galaxy Group's values is continuous learning. One of the most demanded abilities in the world is the "Learning Agility" – flexibility in learning, when a person is ready to constantly develop, not to limit himself/herself in what he/she knows and to gain new knowledge, as they say: "learn, unlearn, relearn."
Another important value is "Game Changer" – being able to change the rules of the game. This requires being broad-minded, able to demonstrate new approach to the existing issues.
Forward thinking is also key. We are always looking a few steps ahead and charting where the world is going, where Armenia is going and, of course, where the Galaxy is going.
Nevertheless, we also attract employees from outside, because "fresh blood" is important for the development of the company. When I say outside, I mean both from Armenia and the international market.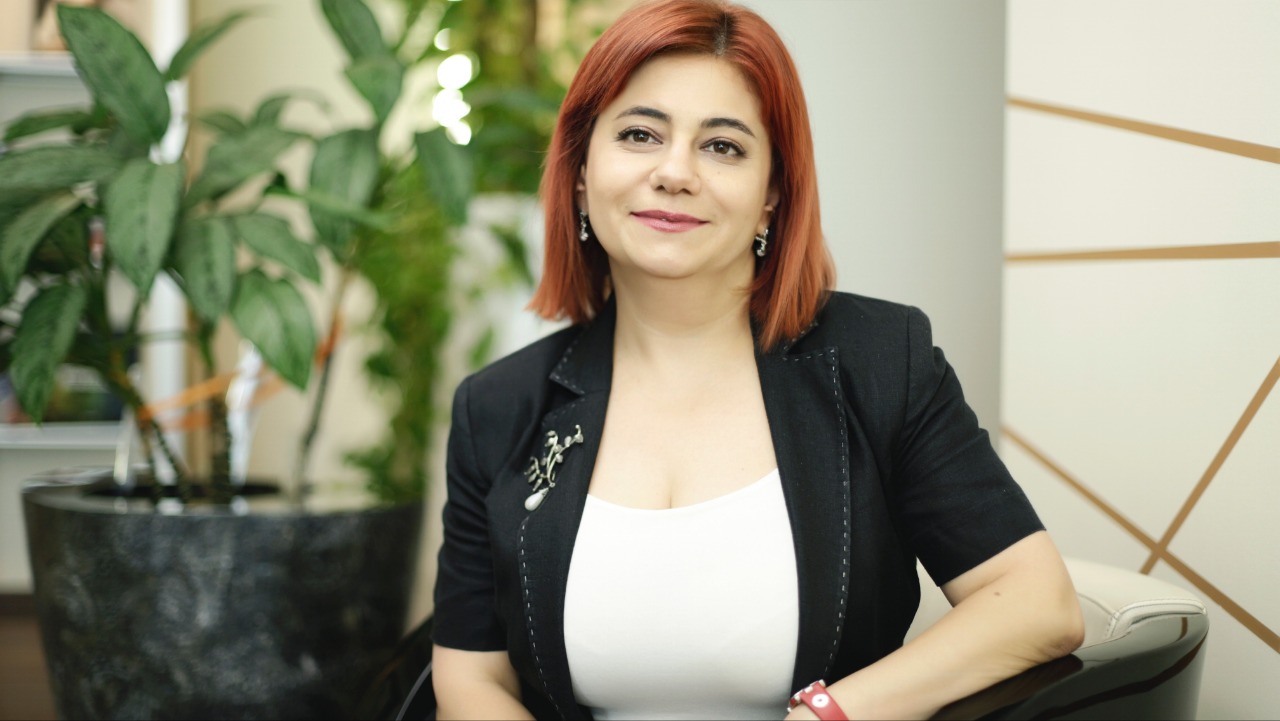 – It is clear that you are also implementing a human resources management strategy based on the company's values, but will you clarify how you select new employees and what you are guided with in promoting them?
– We operate in line with internationally recognized norms and standards, so the recruitment and promotion of employees is also based on these principles. When having vacancies, we place an announcement, receive CVs, review them, invite candidates for an interview and hire the best. When I say the "best", I do not just mean the candidate's education. A person can be brilliantly educated but lack advanced thinking. We also pay special attention to whether the candidate's value system is in line with the company's values. For employees who have already been selected, we have a developed and tested onboarding program to integrate new team members.
We have another good tradition of encouraging talents – the employees demonstrating best performance regularly lunch with the CEO. Such an informal atmosphere is a great opportunity to discover employees from a different side. The events held in the Galaxy Group, such as the annual mini-football tournament, are also quite important. The HR team constantly monitors the activity and engagement of the employees.
The multidisciplinary nature of Galaxy Group provides ample opportunities not only for vertical but also horizontal career growth. We try to convey to our employees that a horizontal career also enriches their portfolio, giving them the opportunity, even while performing the same function, to acquire new experience and skills in different areas.
– As you have mentioned, the role of talent management is to ensure business continuity. I think in the Armenian environment, where the focus on individuals prevails, Galaxy shows a very important model of how systems are built. How do you manage to do that?
– Naturally there is resistance among leaders in general. It is normal. A leader may think that being irreplaceable is his/her strength, but this is an illusion. Irreplaceable or strong leader is the one who trains good leaders, hires peers and even stronger people. If there is someone in the team who can replace the leader, it means he/she is the right leader. It's not easy, but it's important for business continuity.
Alongside our Talent Management program, we have introduced the Galaxy Leader training program, which aims to train leaders within the company for all the managers to speak the same language and share the same values.
– The talent management is very dynamic and constantly changing field. With the change of generations, old management methods may no longer work and new approaches may be needed. Will you share your experience on how the approaches for Generation X and Generation Z differ?
– These differences are evident when creating a personal development plan. When we tell Generation X employees what direction they should take, they may say they will read the relevant books or may ask for a referral to a course. Generation Z representative is likely to prefer online courses or a coaching session. In such cases, we base on the preferences of the employees themselves and make their individual development plans accordingly.
Of course, management approaches are also changing. Whereas for Generation X, the leader is already an authority, in the case of Generation Z, the leader must prove and reaffirm his or her authority. As part of the Galaxy Leader program we also work with the leaders over these new challenges for them to master the right approaches.
– In recent years, artificial intelligence tools have also become popular in HR, from employee recruitment to promotion within the company. To what extent is artificial intelligence included in Galaxy's HR management system?
– The future is for data-driven solutions, and we are on that path. We are currently developing our data office, which conducts research for all our departments, including HR. We do the initial stage of recruiting in an automated way, but we have not yet fully entrusted this process to artificial intelligence. Research shows that AI has certain limitations in recruitment.
Artificial intelligence helps us at the initial filtering stage by skipping people who do not meet the requirements of the position. Then, we continue with the interview stage, where again the preference is given to a person with "a twinkle in the eye" which shows how motivated he/she is. This can only be seen during direct contact.
–  What would you advise those applying for a job? What should they do or what they should not do when going to a job interview?
– As I said before, artificial intelligence tools are widely used, so it is important to take this into account when writing a resume. Your CV must be prepared in a way for the automated system not to skip it, considering you not fitting for the offered job. Every time you send your CV, you need to update it in accordance with the given announcement, add keywords and sentences that the system will recognize and make the right choice.
Before going for an interview, you should prepare yourself, get familiarized with the company. It seems like a simple tip, but people often fail to do it.
Attending a party the night before a job interview, sleeping late and showing up with puffy eyes is not a good idea either. Conscientiousness is paramount, because if you are late, it will be very difficult to break the first impression.
There are people who start asking questions during the interview instead of answering the questions. This is interpreted as avoiding the question, reluctance to answer. You have to listen to the end and answer all the questions. At the end of any interview there is always an opportunity to ask questions.
During the interview, in addition to purely professional questions, the specialist also asks questions of a different nature, which may have nothing to do with the topic. These are so-called "HR questions", which are mostly multi-level. The candidate may not have a correct, competent answer to them, but he or she can demonstrate his/her creative, orienteering abilities in stressful situations. For example, during one such question, the candidate said that he did not know the answer, but he could search and find it very quickly. This was already an answer for us, because today there is no problem of access to information and the desire to learn, to draw conclusions is very important.
Today I am very happy with the change of the main trend of the market: people are more eager to work in those Armenian companies that contribute to the development of the country. The doors of Galaxy Group are always open for talents, and we are always happy to replenish our team with advanced, ambitious, educated and professional people.
Gaiane Yenokian spoke with Astghik Sargsyan
Photo by Agape Grigoryan