Edgar Karapetyan is Director for Strategy and Business Development at Galaxy Group of Companies. A Stanford University alumnus, he has held a number of leading positions in international financial companies and taught at the Armenian-Russian (Slavonic University) for 15 years.
As he tells about his work at Galaxy, Karapetyan underlines: "The most important thing is to see the economic development resulting from your work and the impact you have made on the progress of Armenia's business sector."
Banks.am has talked with Edgar Karapetyan about developing strategies for Galaxy and the changes he believes are needed in the education system.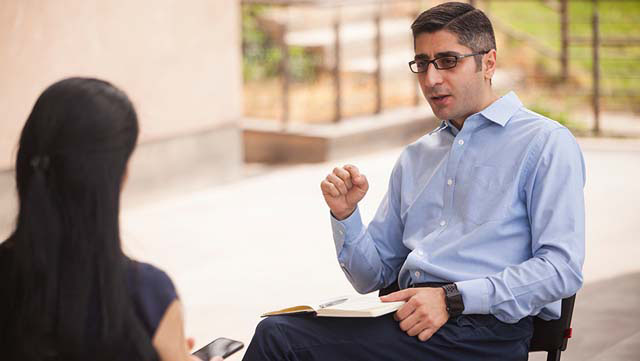 An earthquake in the world and the heart
"The earthquake made me grow up instantly when I was very young. At the age of 6, it is horrible to realize that your classmate will never his parents again."
Edgar Karapetyan was born in Gyumri, and his family moved to Yerevan after the massive earthquake of 1988. Edgar can recall with perfect clarity the day the disaster struck, December the 7th.
"My mother barely managed to find me in the school yard. We went home with one of my classmates, whose family lived in a 9-storey building. When we were close to home, we noticed that our 5-storey building was still standing and my classmate's house was gone. I was horrified by the realization that the boy lost his parents. You mature instantly when you see the line between life and death," explains Edgar.
Tragedy as the basis for choice of occupation
"That disaster had an impact on me. I started expecting all sorts of the unexpected from life."
According to Edgar Karapetyan, when you expect the unexpected turn of events, you come up with strategies and exclude no terrible situation from your calculations. He believes it allows people to be more realistic in assessment of their environment.
"Usually people try to see and think of good things only. You want to be sure everything will be fine when you start a business or a get into a new direction of work. However, we should be ready for negative scenarios, which we just can't rule out. My understanding of that is the effect of the earthquake," says Edgar.
The advantages of studying and working abroad
"When I was little, we would always look for Armenian last names in the titles, whatever cartoon or film we watched. It is the mentality of us, Armenians, as a "small nation". We are trying to convince ourselves that we are bigger than we actually are."
Edgar Karapetyan believes that on one hand, it is a good thing, because Armenians strive to achieve more, but on the other, it hinders us when we go abroad and work with people of other nationalities.
"It is stunning for Armenians to be surrounded by people of different ethnic origins and see that not everyone knows about Armenia. Didn't you hear your whole life that Armenians contribute greatly to the development of civilization? Didn't you grow up with the illusion that your nation has a special place in the world? It's great in terms of national ideals, it preserves the nation, but it also hinders us in building relationships with foreigners," says Edgar.
He thinks the mentality of Armenians is in need of a change. He says we have to understand that you can play a unique role in the world as an Armenian, but you shouldn't keep looking back at the past and living in the past. What Armenians should do is learn from the past.
"In terms of strategy, we have to look towards the future and figure out where we are now, in which direction we want to go and where we want to be," explains Edgar.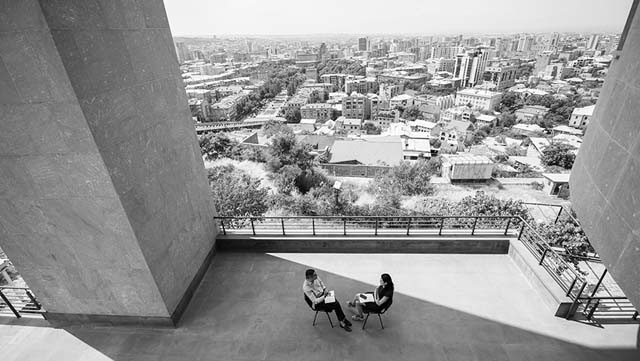 Where do we want to be?
"Where does Armenia want to be in 10-20 years? Even the public administration sector has no answer for that. I believe Armenia should find its special place in the region in terms of economy, not politics."
Edgar Karapetyan says that Armenia is an 'object' and not a 'subject' in global politics and only strengthening the economy can make it a 'subject'. That requires keeping pace with the times.
"The conservative groups in Armenia often say that globalization is a negative phenomenon and we need to avoid it. I believe that globalization is actually the objective reality of our time, and I compare it to a train. If you don't board that train at one of the stations, you will have to run after it," says Edgar.
He brings up an example from the recent World Internet Report: global trends of the last 10 years show that globalization has already changed the world and we have long been living the 4th industrial revolution.
"For instance, 24% of the world's population used internet in 2009. By 2018, the number of internet users worldwide has reached 51%. In Armenia, the index was 15% in 2009 and 72% in 2018. We have recorded a significant leap forward. The accessibility of internet has substantially changed business, and e-commerce emerged. 16% of trade happens online in the U.S. E-commerce grows by 15% annually, while for traditional trade, the index is 2-3%. In a few years e-commerce will be the main area of trade," he says.
Karapetyan believes it changes the principles of the sector and the way business is done and managed. He highlights more data: the number of internet users is 90% of the population in the U.S., 80% in Europe and 30% in African countries. Armenia with its 70% is behind the U.S. and Europe.
According to Global Innovation Index, Armenia ranks 113rd – an average position in terms of use of innovative technologies by the businesses. Azerbaijan is ranked at 62, Georgia at 103 and Russia at 98.
"We fall behind notably in adopting new business technologies. Ordinary businesses such as large and small stores and productions rank very low in terms of use of innovative technologies. Armenia's business and public sectors are adapting to changes with great difficulty. The behavior of modern people is now different as well. We need to take into account that a modern person cannot go to the state body to deal with the state apparatus. It is the old format. People should be able to communicate with the state online, on their phones, for instance, to get license and information and do everything else online," says Edgar Karapetyan.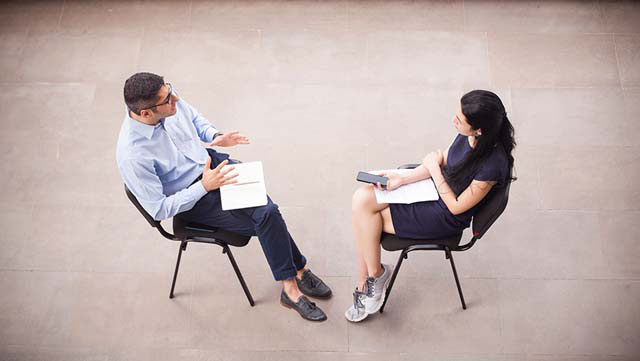 How is Galaxy contributing?
"We believe that the digital area should be the main one for economic development. Primarily, we try to adopt new technologies in our businesses."
Edgar Karapetyan explains that Galaxy is guided by the Blue Ocean strategy.
"A Harvard professor divided the business management strategies into two types: Blue Ocean and Red Ocean. Red Ocean included businesses with keen competition, and Blue Ocean is the strategy of creating your market and shaping the demand. Apple, for example, uses this strategy. Blue Ocean offers products that the market does not have yet," Karapetyan says and recalls that when Ucom entered into the telecom market, internet speed was very low and there was next to none IP television and telephone connection.
According to Karapetyan, Ucom has created its market and that is the objective of strategy: show where you want to be in 4-5 years and which advantages you want to have over competitors.
"In this regard Galaxy regularly creates new markets. The newest example is the Innovation and Technology Park, which is designed to facilitate partnership between business and digital platforms. It is a multifunctional business park, whose unique innovation ecosystem enables various businesses to discuss their issues with IT companies and startups and get solutions from them. It will bring digital solutions into daily life. The government can play an essential role by keeping pace with the times and taking part in this process, using digital technologies in public administration. That is our vision for the next five years, and we are trying to engage businesses through this program to not fall behind global trends," says Edgar Karapetyan.
Creating strategies here and there
"As compared with foreign businesses, the main problem and difference of the Armenian ones is that they don't plan far ahead. Given the political and economic unpredictability, it is difficult to plan a business for a longer period of time than 2-3 years."
Edgar Karapetyan says that another reason is lack of analytical data about long-term development of the economy, markets and main sectors.
"As an investor, I want to understand if the area I'm investing into will remain among the main sectors or if I will be strayed from my main strategy by a change in the "rules of the games"," notes Edgar.
Touching on the key tools of Galaxy's strategy, Karapetyan states that contrary to the Read Ocean with its price wars, Galaxy's Blue Ocean allows the customers to shape the pricing policy, as they pay for products or services the amount that differs from the market price.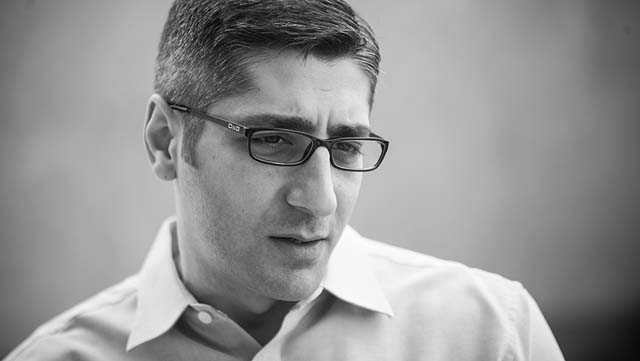 No business in the education system
"In Armenia, business is barely involved in the education system, but we need that involvement to grow in order to educate good specialists and responsible citizens, users and consumers."
Edgar Karapetyan believes that education should be one of the main areas of the businesses' social responsibility. If the businesses can prepare experts in accordance with their needs, the education system will be transformed.
"First and foremost, our education system must comply with the requirements of the modern world. You can't teach in the digital age the same way as in the 1890s and the 1990s. The education model in Armenia has not changed in the last 100 years. Our children sit at the desks with books and notebooks and write on the blackboard – just like a century ago. Education in Armenia has not adapted to the systemic changes," says Edgar.
According to Edgar Karapetyan, the education system has to adapt, otherwise traditional education will be replaced with other methods. Children will like studying online more than going to school.
"There is already a bad tendency in Armenia in this regard. Higher education is often replaced by online courses for many professions. In particular, IT specialists don't want to go to university, because what the university teaches is already irrelevant and not applicable in the world," says Edgar. He believes that modern business must have a large role in the building of a relevant education system.