Hayk Lorikyan is the Deputy CEO, Business Development of Galaxy Group, which has been featured in the AmCham (American Chamber of Commerce in Armenia) magazine. In an interview he speaks about Teryan 5 and inspirations for working at the Galaxy Group. 
To note: Galaxy Group is a member of AmCham Armenia, represented by Teryan 5.
The original interview can be found here. Read below the copy.
Q: Mr. Lorikyan, tell us about the Galaxy Group as a company, and what are the main values of the company?
A: Galaxy Group of Companies is "factory" that forms, assembles and delivers successful businesses. This is a group of companies that always strives for excellence by looking ahead, asking questions before the idea commercialization and combining previous experience into something more developed, more successful. Galaxy is a house of professionals with shared high quality standards and ethics, united by a mission to improve lives and communities.
Q: Mr. Lorikyan, what is the KEY business challenge you could solve that would make the biggest impact on the organization?
A: I believe that no single person is ever capable of changing any large organization, it is always the team, a group of like-minded people, who happen to get together and solve real business challenges. Looking back, I would say that the key business challenge we could solve here at Galaxy was the slight change of the corporate culture of the company to engage the team in the decision-making processes.
Q: Mr. Lorikyan, tell us what kind of ideas are being tackled in the workgroup discussions to make the company more innovative and its projects original?
A: The ideas are not only limited to workgroups, the ideas can come from different companies and the workgroups within those companies as well. There is a stage at Galaxy Group where all employees have the opportunity to share their ideas with many partners and other employees of the group, and it is one of the most important elements of our company, to have their voices heard. That comes from having a very dynamic, young and modern board of directors and shareholders, who like to sit with the staff members around the table and discuss numerous ideas. Of course, during those sessions, not only new original ideas might arise that have not been yet introduced by anyone else, but also ideas that can diversify already existing business units. Hence, our development team is responsible for that very area, either creating new business ideas or expanding the current business active units. The ideas get filtered
based on how much they are aligned with our overall business strategy and vision. If it is an entirely new idea that does not correspond with what business areas we are currently exploring, it is discussed within the Galaxy Group whether it is possible or not to start a new branch for the proposed idea. That said, some ideas can be incredibly original and new but do not line with the company's current goals.
Q: Mr. Lorikyan, what new projects are currently undertaken by the Galaxy Group?
A: Teryan 5 building complex in partnership with Marriott International, is one of the outstanding projects. Captain Kid's Treasure Island in Yerevan Mall is a totally new concept in the kids' entertainment sector. In addition, two years ago we signed a franchising contract with Paul Boulangerie which is a French business concept. Paul is a 100-year-old famous traditional business that is based in France and will open its doors in Armenia shortly. We have gathered a pretty good professional team for our other restaurants, such as Santafe and Pahest 33, and as such, we have decided to monetize this branch of the HoReCa sector and capture the opportunity for the development of such businesses.Currently, our other business – Megafood has a new business idea. For instance, Megafood is part of the Galaxy Group that works in food production, and after a long and in-depth study of the local market, we realized that the cheese market can be a very interesting and high potential sector to participate in. Katna is our new cheese brand that has three different types of cheeses: Chanakh, Lori and Suluguni. The success of this project mainly relies on consumer demand, which we estimated to be considerably high when it comes to such high-quality cheese products.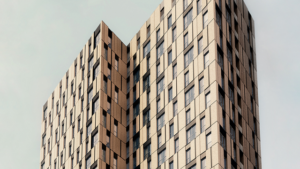 Q: Mr. Lorikyan, what was the main motivation behind the complex of Teryan 5, how did you partner with Marriott International? When the project will be aunched?
A: Well, the motivation always is to challenge the existing market with something breakthrough idea, which, apparently is the key to success and profit. When Galaxy took over the project, there was a ready-to-go project on the table, it was intended to build a 400 key luxury five-star hotel, so the first thing we did was to challenge the existing project and ask ourselves whether it is feasible. We hired two different consultants from C&W and JLL, for comprehensive market research, which showed that instead of a luxury hotel the market needs something different, a medium-segment facility, and instead of 400 rooms it should have only 150-180. After the long-research, we signed a management agreement with Marriott International to develop and operate a 173 key Courtyard by Marriott hotel, which perfectly matched all of our requirements. Because of the pandemic, the launch of the hotel shifted to 2023 while the residential part will be commissioned in Q3 2022.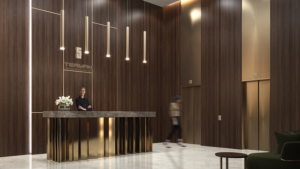 Q: Mr. Lorikyan, we know that you drove the launch of the Captain Kid's Treasure Island, can you tell us what challenges you faced and how successful it was?
A: As you know, every shopping mall needs a so-called anchor tenant in order to attract high traffic, and it is especially important for the newcomers. Due to some processes, Yerevan Mall was launched with no operating entertainment anchor and we needed to act fast to help the operations team. So, the main challenge was the time. We, together with my colleagues from Yerevan Mall, managed to create from scratch and set up a really great venue of Captain Kid's Treasure Island in about 6 months, which apparently became the number one family entertainment center in the city.
Q: Mr. Lorikyan, can you tell us more about Paul Boulangerie? How the new project will be implemented in Armenia and what will it bring to the sector?
A: We studied the pastry and boulangerie market and realized that it is quite open for new investments, as it is only in the last 2 years that the pastry business has developed in Armenia. We invited experts from France, and they helped us to pinpoint in which direction we should be working. In the case of creating such a business, you mainly have two options: you either start a team on your own for an originally new brand, with all its risks, or you bring in a partner, which in our case has 100 years of experience with strong know-how, hence, you trust their input on what to do/how to do. The pandemic changed the deadlines a bit, but the project is running right now and we hope by May 2022 we will have the first Paul Boulangerie opening on Abovyan St. 8, Yerevan. It will be in a historical building very appropriate for the business since it will bring the spirit of France and French cafes, with its interior design, food items, the atmosphere, music and aesthetics. There will be small tables venue to enjoy the coffee outdoors and watch the people flow. We are planning to have five different branches of Paul in Yerevan. One of them possibly will be at the airport. Certainly, the first flagship is the most important one because it represents the factory as well, where everything is being produced. The other branches are more like satellites to support the business for demand creation and will be opened within three years. We will have the same exact quality and taste of food and croissants at Paul's as anywhere in the world, of course, without unveiling the recipes' secrets. Each of the three main chefs will be working as a bakery chef, pastry chef and kitchen chef. In addition, the management will undergo certain training, for almost four months since the Holder family is very serious about delivering quality and we strive to integrate that same exquisite French quality here in Armenia.
Q: Mr. Lorikyan, what will your advice be to the business community of Armenia?
A: Come up with new products and services, test them in Armenia and expand abroad.