Teryan 5 is a real estate development encompassing a 75-meter-tall 22-story building. The building is first of its kind in Armenia to offer luxury apartments for sale, as well as a full room service for the residences, optionally provided by the hotel.
Located on the crossroad of Teryan and Pushkin streets it is designed by UK leading architects from Broadway Malyan. For over 60 years, they have built a strong reputation across numerous sectors including residential, education, workplace, retail, mixed use, hospitality and others. Broadway Malyan creates places with a strong sense of identity where people and communities aspire to live, study, shop, work and relax.
Starting from 1958 till today besides it's UK studios in London, Reading, Manchester, Birmingham Broadway Malyan has launched studios in different countries such as Portugal, Spain, UAE, Singapore, Shanghai, South Africa, India and others.
The first 11 floors of the building houses a 173 key Courtyard by Marriott hotel, while the second 11 floors encompass 75 luxury residences.
Amenities for the residents include 4 levels of underground parking area for 90 cars, SPA, Fitness and concierge service. Total GBA of the building is 31,000 m².
We spoke to Broadway Malyan Group Chairman and Design Lead Mr. Stuart Rough who presented details and advantages of the project.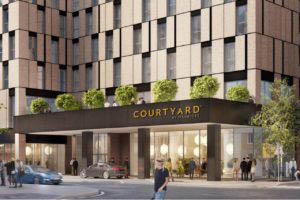 What are the latest trends in design and architecture right now? What affect has the pandemic had on design and will there be any long-lasting effects?
"A really important issue currently driving architecture and urban design is the concept of the walkable city – a city that is both beautiful and functional, where districts and developments are multi-use and encourage healthy lifestyles and valuable community interaction.  Health and wellbeing will be key design drivers in the future with access to open space being increasingly important in urban settings as well as biophilic design in all sectors so that users have a strong connectivity with nature and all the mental and physical health benefits that this can provide."
"This will be particularly important in a post-pandemic world where there will be a natural instinct towards more special awareness in community settings and a desire to create a safe and clean environment. Sustainable design generally will be the factor that underpins the evolution of the built environment as we look to the future so building performance throughout its entire lifecycle will be an important influence in future architectural trends."
"There will not be a single homogenous effect of the pandemic, as it has impacted different regions and sectors in a variety of ways although it is clear that one of the major global impacts of the pandemic is that it has been the great accelerator of trends that we were already seeing, particularly around technology. Potentially the biggest impact in the long term of the pandemic will be on workplace following the huge more to remote working over the past 12 months."
"However, this may not necessarily mean that there will be a reduction in the amount of commercial space, but it will evolve as working becomes much smarter and businesses adopt a more hybrid approach to working practices. Offices will evolve from rows of desks to meeting and collaboration spaces, potentially divided into neighbourhoods and teams where cellular or cubicle working is introduced. The sizes of the offices will remain the same but there will be less people and the floorplate will be completely transformed."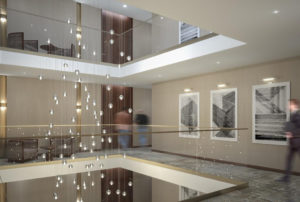 What do you think about Yerevan's architecture in general?
"Yerevan is a hugely interesting city from an architectural perspective. You can feel a wide range of regional influences as you travel through the city, each combining to provide Yerevan with its unique identity. There are some really interesting examples of modernist 20th century architecture including the impressive Cascade complex which provide a window into Yerevan's more recent history while the open spaces and wide boulevards provide a scale that is both monumental but also friendly, safe and welcoming."
What were your team's inspiration while designing Teryan 5 and how does the unique design fit in with the architecture of central Yerevan?
"Responding to the urban context and ensuring that the building integrated into the wider cityscape was at the heart of the design process with an aspiration to create a building that would clearly stand out without being overtly ostentatious. The design is also influenced by the number of different floor to floor heights due to the varied uses inside the building – the lobby, hotel, transfer floor and two different types of residential unit."
"To mask these different floor heights, the fenestration and architectural elements create a seemingly random pattern that accentuates the height of the building and creates an interesting rhythm that responds to the patterns and friezes that can be found on many of Yerevan's earlier buildings. The building is clad in a stone that references the materiality of many of the building's in the heart of Yerevan and ensures that the contemporary design works in harmony with its surroundings. The site itself provided a number of challenges due to its central location and proximity to existing buildings but the sleek design has enabled us to create a new landmark that is an important point of reference and quality with the city centre."
What are the advantages of mixed-use projects like Teryan 5?
"Integrating high quality residential and hospitality is about articulating a lifestyle as much as it is about the building itself.
"Hotels are no longer just about places where people stay, they are meeting places, business and social hubs, opportunities to escape of course but also places to interact.
"By bringing together residential and hospitality into one building you are able to create connections that add value for both visitors and residents, allowing them to share the very best facilities in a practical sense but also their aspirations."
Teryan 5 is a joint project of Galaxy Group of Companies and Marriott International. Galaxy Group is an Armenian holding company, which represents 15 companies in 3 countries. In hospitality and service industry, companies operating under the Galaxy Group's umbrella include Santafe cafe, Pahest33 bar-restaurant, and the famous French bakery and cafe PAUL will open its doors soon.