Pahest 33 (Warehouse33) bar-restaurant and Santa Fe cafe-restaurant, which are part of Galaxy companies, stand out with a unique concept and design. Founded in 2017, Pahest 33 with international and fusion cuisines is the first underground bar-restaurant in Yerevan.
Santa Fe, founded in 2005, was the first open-air cafe in Yerevan, which also included fountains, a green zone, a wine corner, and children's playground. Banks.am talked about the management of the restaurant and the bar with Director General of Pahest 33 and Santa Fe Tigran Soghomonyan.
Most of the day at work
"I usually work 7 days a week, 14-15 hours a day."
Tigran Soghomonyan, who has been managing restaurants for more than 20 years, assures that this is the most tenacious and complicated of all the spheres. You never know who your next visitor will be, with what demands and preferences.
"In summer, 500-700 people visit Santa Fe daily, each of whom must be treated individually. The visitors of Pahest 33 are not as many, but they are very different from the visitors of Santa Fe. Managing these two at the same time requires two different strategies and approaches because we are dealing with completely different customer groups."
Tigran Soghomonyan assures that each of them has its difficulties of management, and a strong and good team is needed to succeed.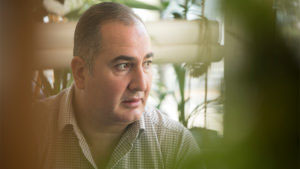 "One of the rules of the restaurant business is the following: if the team failed, you failed. The team is responsible for your success.
Everything began 20 years ago
"I realized by chance that I like the restaurant business."
Tigran Soghomonyan says that after a certain incident in his life he became interested in restaurant management. Before that, his main interest was rugby.
"It all started 20 years ago in Kiev. I went to my uncle and brothers on a holiday. My uncle had a restaurant. I began to intervene in the affairs and realized that I liked all that. I found restaurant management courses, started attending them and after graduating I returned to Yerevan with a clear position of working in the restaurant industry."
It is rather difficult
"Restaurant management is very complicated, every customer has his/her objective and subjective expectations from the service sector."
Tigran Soghomonyan says it is very difficult to communicate 24 hours a day with people of different tastes and desires.
There is another difficulty in the Armenian restaurant sector: the trends in the sector are perceived here with a delay.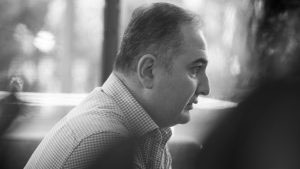 "The trends mainly come from Russian restaurants. It seems that what is fashionable all over the world should be fashionable here as well. However, this is not the case at all, the restaurant business does not like "ideological" projects. For example, in Yerevan they tried molecular gastronomy, which, though was trendy all over the world, but had absolutely no success here. Or, for example, Thai cuisine food. 12 years ago we tried to present certain particles in Armenia, which was not perceived by people at that time, but has been successful this year.
The same story is with Panasian cuisine. In the 2000s, when sushi came to Armenia, it was perceived as a strange food, which is better not to try. Today it is already sold everywhere. Restaurant trends should be brought to Armenia by studying the market very well and at the right time."
The competition is big
"There is a big competition in Armenia, which brings great difficulties with it."
Tigran Soghomonyan thinks that there is no restaurant quality bar in Armenia. There are ratings that can be ordered to an organization to collect it.
"There are restaurants that are on their heights, including Santa Fe and Pahest 33. Competitors are constantly appearing and an endless chain of comparisons begins. Very often subjectivity wins. Usually, every restaurant in Armenia sets its own benchmark for its quality."
Restaurateur phrase is being wrongly perceived in Armenia, Tigran Soghomonyan thinks. There are restaurant business managers and restaurateurs in the world, while here the two are often fused.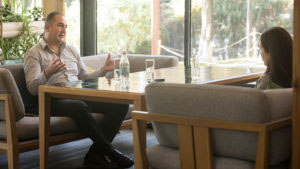 "For me, a restaurateur is a person who keeps his/her small restaurant, he/she is the chef and all the control is in his/her hands. Usually these people are also involved in the management of the restaurant. The others, including me, are dealing with the restaurant business."
Customers
"Customers are very different. If to speak with our example, the same person visits Santa Fe with children and Pahest 33 with a team or another group.
Pahest 33 is a restaurant, which is easily transformed into an entertainment place. It is the first of its kind and still the only one in its format, which works as a restaurant for a certain hour, then is transformed into an entertainment place or a bar. Pahest 33 has the largest bar in Yerevan.
The visitors of Santa Fe are different from the visitors of Pahest 33 and many other places. Santa Fe is usually visited with families and children, freelancers and many tourists. While to Pahest 33 people come for a specific purpose, mainly for a pre-arranged visit. It is a place of entertainment, designed for passive and active rest."
The menu of Pahest 33 and Santa Fe is also different, in the first the emphasis is put on the assortment of meat, in the second – on the Panasian cuisine.
At the moment, Pahest 33 has 40 employees, and Santa Fe – 120. When choosing employees, we pay special attention to the path they have passed.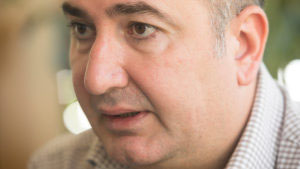 "It is important for us that our employee knows different cuisines and has management skills. The chef chooses his team. Interfering in his affairs is not so right and desirable, because he is responsible for his team. The same is in the bar's case, the responsible of the bar chooses his team and deals with the staff."
If not the restaurants
"If not the restaurants, I would like to become a professional athlete."
"I have played rugby for many years and I would like to be a professional athlete and play, for example, in Great Britain. But that dream remained unfulfilled. Instead, I exercise on a daily basis. I definitely go to the gym and try to make up for the lack of sports."
Tigran Soghomonyan has one daughter, 9-year-old Sara. He says she inherited character traits equally, but not the preferences. She is obsessed with modeling of clothes and they do not know how long this interest will last and how deep it will be.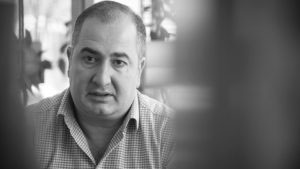 "Children today are very capricious, they live with digital technologies and are greatly influenced by advertising. We try to control. My daughter is a very interesting character, very sensitive and very attentive to details. She notices things in our daily lives that we never pay attention to. Everything has changed in my life since she was born. After she was born I realized my responsibilities."
Galaxy's invitation
"When I was invited to the Galaxy, I agreed immediately."
Tigran Soghomonyan headed the Mezzo club for 9 years, and El Holding for several months. Last year he tried to open his own restaurant, Master Chef. The work was first hampered by the coronavirus epidemic, then by the war. The restaurant closed. The job offer from Galaxy was at the right time and in the right place. PAUL will soon be added to his management affairs of Pahest 33 and Santa Fe.
"PAUL is important for Yerevan because it is very important to have an internationally recognized brand in the country. PAUL, as a French brand, can say a lot about the country's image. It will bring a new level and quality of culture to the Armenian market," Tigran Soghomonyan assured.
Lusin Mkrtchyan
Photos by Emin Aristakesyan
The Source: Banks.am