Arsen Mnatsakanyan is the Chief Executive Officer at "Timeless" LLC. It represents TI'ME stores which make part of "Galaxy" Group of Companies. The business was founded from the ground up by the founders of "Galaxy", with only three employees. Prior to "Galaxy", Arsen Mnatsakanyan worked at "Gazprom Armenia". He studied and graduated from the Faculty of Economics of Yerevan State University. In 2006, he received a PhD in Finance from the Armenian State University of Economics. In 2016-2018, Arsen Mnatsakanyan continued his education at the University of Sheffield, England, receiving an Executive MBA in Business Administration and Management.
Banks.am talked to Arsen Mnatsakanyan about TI'ME's success story, business strategy and tennis.
From a regular employee to manager
"I started my career in 1999 at "Gazprom Armenia" as an economist, growing to the position of deputy Head of Investment Programs Development Department and then Head of Economic Department."
Arsen Mnatsakanyan has worked at Gazprom Armenia for 13 years. He joined the company on his own initiative, upon finishing his military service, after a chance meeting with then director Roland Adonts.
"One day, as I was nearing the end of my service, I approached him and asked if he would hire me after I was discharged. He said yes and hired me.
It was a huge experience for me, because "Gazprom Armenia" is one of the largest companies in Armenia, the largest employer and taxpayer, where vital strategic programs were developed. We had a heavy workload, and it was a long period of implementation of large-scale investment programs. With his leadership, skills and knowledge former Director General Karen Karapetyan made a great contribution to these large-scale developments and the establishment of the company. "Gazprom Armenia" taught me to manage large-scale work and was a very important stage in my life.
The driving force
"Looking back, I realize that diligence is the force that drives me forward. Work is my passion."
Commenting on various questions about himself, Arsen Mnatsakanyan says this is a topic his colleagues should talk about. When asked about what motivates him, he answers without hesitation: the feeling of responsibility, diligence and dedication to work. "Work or family time?" The first one often wins!
"Due to my work, I can't often spend much time with my family. I am frequently away from Armenia on business trips. To be more honest, sometimes my job leaves little time for family and I haven't found the way to solve this issue yet. At this stage in my life, I try to balance the two, to find the "middle ground".
"I have two daughters and a son, and they want to spend more time with me."
Arsen Mnatsakanyan's children are 21, 14 and 13 years old. He says that unlike the office, where democracy prevails, he is stricter and more demanding at home. Education is at the core of their upbringing. He believes that high quality education is the best investment in the children's future. I prefer to explain to my children the necessity of studying rather than to force them to do it.
I attach great importance to sports; my son loves football very much. He also practices tennis with his younger sister. My eldest daughter graduated from the Marketing Department of the French University of Armenia and plans to continue her Master's degree at the American University of Armenia.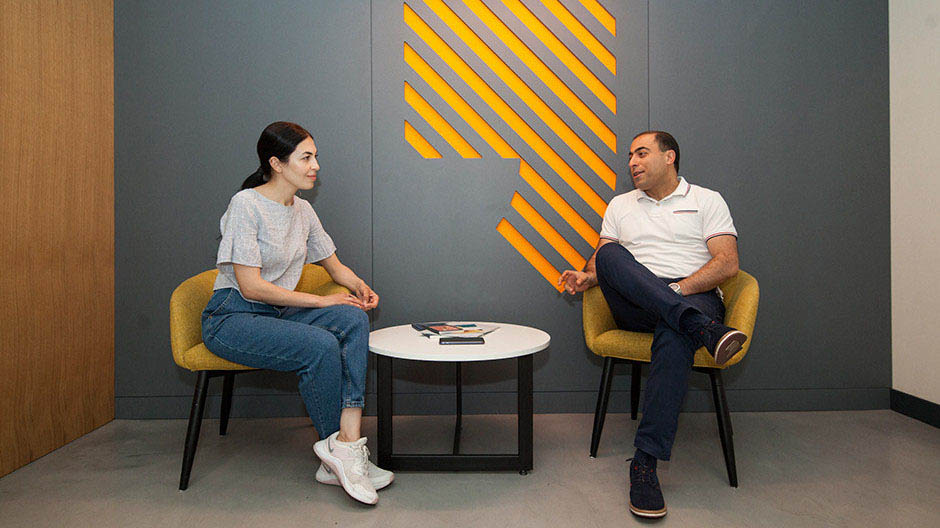 Tennis is a noble game
"I am a big tennis fan. I know the best players and try to follow all the tournaments."
Arsen describes the game as an aristocratic and beautiful sport, which has a history.
Unlike the business, where the team is the cornerstone, victory in tennis depends on one person only. This sport helps preserve fairness and integrity. Not only the physical but the volitional struggle as well are important here. If you can control your emotions and are physically strong, then you will be able to win. If you lose, it's hard to blame anyone. I also love football, which has a team philosophy.
Educational challenge
"They kept telling us in Sheffield: – Don't try to invent something new in management, take the most successful examples, accepted and tested methods and use them in the company."
The two-year course at the University of Sheffield was very interesting and valuable. The offer came from the shareholders of "Galaxy".
Arsen Mnatsakanyan proudly says that at "Galaxy" Group of Companies special attention is paid to acquiring new knowledge and new skills. This is one of the biggest motivations for company employees.
"In our company, it's important for each employee to constantly update their knowledge and get a new education. The world is developing extremely dynamically, so if you don't want to be a "loser" you have to keep up.
The course in Sheffield was based not on theory but on practical case studies, and we studied and analyzed academic literature with many interesting and valuable analysis. These analytical studies are crucial, they allow us to see a broader picture of the present and the future. They taught strategic thinking in Sheffield and kept reminding us that having a strategy is very important."
Armenian education
"Armenia's educational system is the biggest problem of the labor market".
According to "Timeless" CEO, only two universities in Armenia can be competitive in the global educational race. He believes that everything, from the educational content, methodology, choice of subjects to the aura in the auditoriums, need a radical change.
From his own educational experience, he concluded that the subjects taught in Armenian universities and their content are outdated, obsolete and impractical, and there is a long-standing need for radical reforms.
"Armenia's educational system is one of the main reasons for our country's failures. The system is in a terribly bad condition, which becomes obvious in the labor market. Finding an educated specialist is a major issue today. It's not only about the work experience, but also about the basic knowledge of education. Unfortunately, most of those who have a good education emigrate for good. Those who return are mostly people who don't have higher education and a good specialization. There is a huge shortage of educated workforce and intellect in Armenia."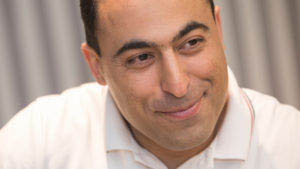 The winning strategy
"Back in 2012, when the first TI'ME store opened, our company had four employees: me and three others. Nine years later, we have over 400 employees in 3 countries."
TI'ME is an Armenian brand created by our company. The company, mainly financed through loans, started from the ground up. When I agreed to run the company, there were a number of agreements with our foreign partners that were not even fixed on paper. But there was a clear strategy and a development vision. In 2012, we launched active negotiations with various world-famous companies, many of which had no interest in Armenia, since it was a very small market for them. However, once we presented our business plan, development prospects, our goals, the store design and the format, they agreed to cooperate. By the way, our company is unique in this respect, because we managed to sign long-term cooperation agreements with such renowned brands as the Japanese Casio and Citizen, the Danish well-known silver jewelry brand Pandora, the American Fossil Group (which represents Fossil, Michael Kors, Emporio Armani, Skagen, Diesel, Armani Exchange, DKNY, etc.) and TIMEX, the Swiss Hamilton and Gucci, American Parker. They chose us to represent them not only in Armenia, but in Georgia and Belarus as well. The success of TI'ME's concept lies in the fact that we have been able to offer customers not only a wide range of brand watches in one place, but also a wide range of available jewelry, good service, stores that have unique and different design, watch repair service, bonus program, etc.
"The process of starting cooperation was not an easy one, as world-famous brand companies are only interested in large markets," Arsen recalls.
We had a hard time convincing these big and famous companies to agree to work with us. There is an important nuance here: in every country these big-name brands prefer to work differently and with one representative only, and we have become that one representative, but for 3 markets."
"There were almost no brand watch and jewelry stores in our country. Whatever did exist, was either too expensive or fake and of poor quality. We analyzed that gap and took a leading position in the market in that segment. When we started meeting with our foreign partners, it became evident that reliability, long-term and lasting cooperation, as well as the coincidence of strategy and vision, are extremely important for them.
The first store opened in Yerevan in 2012, then the second followed. Two years later, TI'ME cut the red ribbon of its first store in Georgia, and two more years later in Belarus. The company began expanding rapidly, tripling and then multiplying the number of employees, expanding the product assortment, and adding a range of jewelry – mainly Italian and French brands. The company currently has 37 TI'ME and Pandora stores, and in the coming years that number will grow to around 45-50.
The development and the launch of TI'ME's www.time.am online sales platform in February 2020 was also a very important project. Thanks to the website, our customers can make online purchases from anywhere in the country, and then receive their order with fast and free delivery.
Our company is on the list of large taxpayers, has a high reputation of a stable and responsible partner both among foreign and Armenian partners. We have been implementing various social and charitable programs for 9 years, although we prefer not advertise them much.
It's very important to have clear marketing and HR strategies based on the current situation on the markets.
Never rejected
"We have never been rejected in terms of cooperation, and the almost 10-year uninterrupted cooperation with renowned brands speaks of our high reputation as a stable and professional partner."
"Timeless" CEO says the jewelry and the watch market is developing rapidly today, and new brands are gaining such a huge recognition in just 2-3 years that they overshadow even the Swiss brand watches that have a history of more than 100 years. Various modern technologies are now widely used in watchmaking, due to which watches are considered not only as time-displaying but also as multi-function devices.
One of the advantages of stores is that at TI'ME the assortment is changed and renewed in line with the dynamic demands and trends of the global market, and the price policy is completely dictated by the brands, ensuring a single selling price of the product worldwide.
"We provide affordable prices for all customers. This was a risky move from the very beginning, because the same world-famous brands advised us to focus on a specific and narrow segment of customers. However, we decided to make the store available to all layers of population by providing high quality service. You can find original brand watches and jewelry in the stores starting from AMD 8-15 000.
This strategy has been adopted from the very first day and hasn't changed. We were the first to provide an opportunity to buy watches and jewelry on credit with 0% down payment and 0% interest rate. In a nutshell, I can say that our company played a significant role in transforming the watch and jewelry industry and creating and establishing a new culture.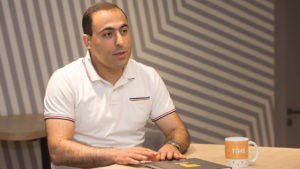 How TI'ME name was chosen
"Originally TI'ME was simply Time. It may sound strange, but the name has changed and includes a philosophy."
It turns out that the TI'ME chain of stores was originally called "Time". The name was conditioned by the product, which was presented in the store – only watches.
However, after a while, jewelry and accessories appeared in the stores and it was decided that the name needs to be rebranded and should convey new emotions.
"A specialized company helped us to transform the name, so TI'ME became an acronym for "Territory where I am excited". The name began to carry a philosophy, the logo and colors also changed, forming a new perception and mood, which had a very positive impact not only on our customers, but on our employees as well."
Working with different nations
"Working with different nations is a real challenge and a wonderful experience."
Apart from Armenia, TI'ME and PANDORA are also represented in Georgia and Belarus. According to Arsen Mnatsakanyan, managing Armenian, Georgian and Belarusian employees is a difficult but wonderful experience.
"I have never had this kind of experience before. Both Georgians and Belarusians differ in their way of thinking, worldview, style of work and approaches. They often ask why Armenians are always in a hurry and, as a rule, very impatient."
According to Arsen Mnatsakanyan, in this area of work it's very important not to focus on national differences. The main criteria that we follow are professionalism, work efficiency and actual results. Despite the differences, we have tried to create a corporate culture, introduce clear processes and standardize accountability to the maximum.
Work at Galaxy
"I often joke that TI'ME seems to be my fourth child."
Next year will mark the 10th anniversary of "Timeless".
"Both our company and the "Galaxy" Group of Companies set bigger goals and programs every year. And this process seems to never end. There is a big drive in our company, we are constantly growing, always discovering new horizons. You always have new and fresh projects, strategies, new negotiations, new partners, new trips, and there is always a need to make greater efforts. It's a crazy rhythm, but it's also interesting and motivating.
"Galaxy" has a wonderful team and a unique pace. This is what makes you love your work and have a strong connection with the company."
The economic challenge
"Our economy experienced two major crises: the pandemic and the war. The first one was force majeure, the second one – not so much, because they had been warning about the danger of a war for years."
Arsen Mnatsakanyan forecasts that Armenia's economy will continue to be in a bad state for a long time, as there is no specific concept to correct and develop it. The existing risks and uncertainties are a cause for concern.
"In general, there is a very big problem in Armenia – we don't know and can't formulate what our dream is. When I ask our employees to formulate what our dream is, what Armenia's and the Armenians' dream is, they find it hard to give a clear-cut answer. We don't know where we are going, how we are going and we can't fix our goals as a state (even in the short-term perspective). We often hear or see some development strategies, sometimes for 20-30 years. Everything is beautifully formulated in those programs, impressive numbers are presented, but there is no answer to a simple question: How are we going to achieve all that?"