Vahan Dilanyan serves as the Head of Public Affairs at the Galaxy Group of Companies. He leads strategy development, while driving relations and collaborations with key stakeholders in public and private sectors. He has served in senior positions in both public and private sectors, and received many years of education, including at Harvard University. Banks.am talked to Vahan Dilanyan about strategy development, Galaxy's success and new trends in the business world.
Preferring coffee
"My morning starts with kissing my daughter Sarah, being thankful for what I have and a cup of coffee. Sarah is truly a gift from God."
Vahan Dilanyan is holding a cup of Americano in his hand while talking. His eyes light up every time he mentions his daughter. Sarah is 5 years old and has managed to completely change his life. He dedicates most of his time to family, spending time with his daughter and wife, and also enjoys walking with friends.
"I can't express in words what my daughter has taught me, but the fact that I have to try to serve as an example for her as how to be a good person, has somehow changed my worldview."
He says the work-family balance is probably equal, neither one outweighs the other.
"If you love your job and at the same time realize that as a result of your work you contribute to the overall improvement as much as you can, you understand that you also work for your family. In this case, all the questions disappear."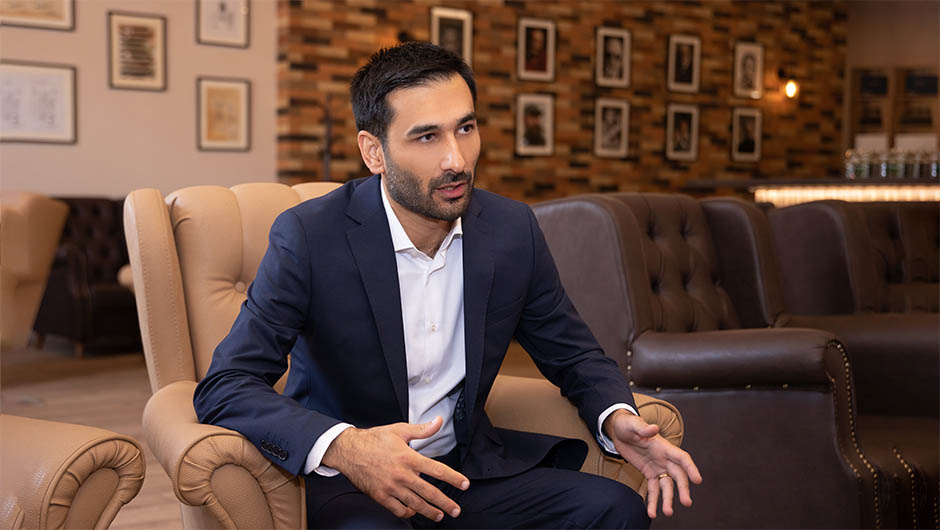 The role of Harvard
"I have studied in Armenia for 9 years and I am not in the least displeased with my education."
Vahan Dilanyan holds a Ph.D. in Political Science/Public Administration. After graduating from the Yerevan State University, he studied at the Public Administration Academy of Armenia, as well as participated in international courses, for example, at Harvard. He completed an executive education program at the Harvard Kennedy School.
"Education at Harvard was very short and incomparably valuable. It prompted me to think about three issues: when moving forward sometimes you have to take a step back, be able to make unpopular decisions, and create public value.
I learned the approach to public value from my professor Mark Moore."
Choice of workplace
"When choosing a job, it is important how to use the knowledge and skills most effectively to improve the business efficiency and contribute to the public interest."
Business is no longer just about making a profit, as global trends, digital technologies and the availability of the internet have changed the rules of the game, people are more confident in their strengths and have ever-growing needs. With global inertia, these needs are necessarily targeted by business at the operational level, and an attempt is made to more actively involve people in the process. But it is important that this is "formulated" within the context of the country and the common value."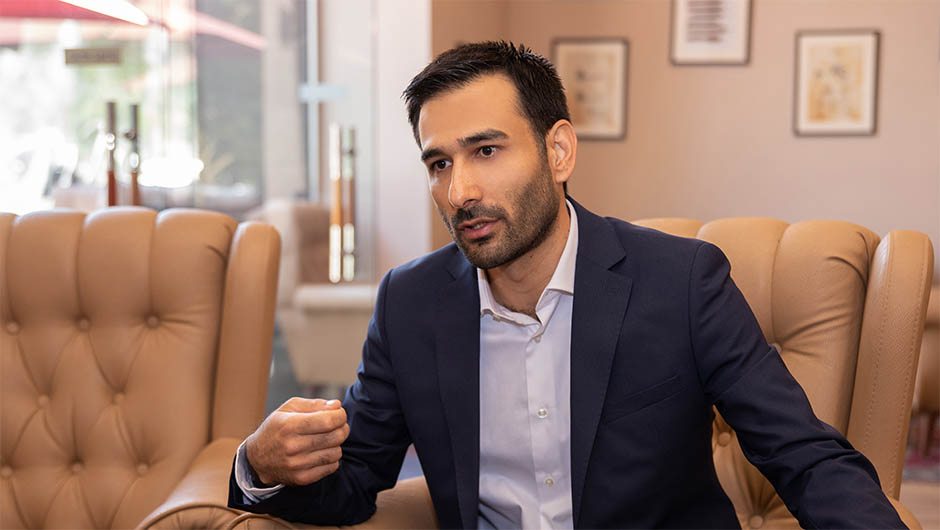 As an Assistant to the Prime Minister
"I am happy that I had a chance to use my knowledge and skills for the development of Armenia, right from the decision-making office."
On November 18, 2015, Vahan Dilanyan was appointed Assistant to the Prime Minister of the Republic of Armenia. Before and after that too he held high state positions, and describes his work experience in the public sector as a unique manifestation of high responsibility.
"The knowledge and experience I gained while holding those positions is invaluable, it has taught me maximum prudence and restraint, as well as high responsibility."
According to Vahan Dilanyan, during the last two decades the demarcation of the state and private sectors has been violated, and there have been deep inflows from the state sector to the private one and vice versa.
The model of the private is more often projected on the state one in the public administration system, as a result of which the citizen is considered a consumer.
The opposite process has also taken place. For example, services that were previously reserved for the public sector are now provided by the private one. Also, whether for objective or subjective reasons, the private sector has a more comprehensive involvement in social affairs.
The choice: Galaxy
"Galaxy has a rather broad range of influence and enters every third household of Armenia with its goods and services."
Vahan Dilanyan says that only in 2020, which was a remarkably difficult year, the group of companies paid over $22 million to Armenia's state budget in taxes.
"In terms of introducing value into the economy, Galaxy's influence is quite important. It is a key player, and in the near future its influence will become wider at the regional level."
His decision to join Galaxy's team was propelled by the volume of the challenges.
"Galaxy has developed targeted models of strategic development to respond to existing and nowadays challenges, and at the same time to promote effective development in companies within the group."
Strategy development at Galaxy
"In the development of strategy our vision is at the intersection with pragmatism."
Vahan Dilanyan says that the founders of the company have built Galaxy's business culture on the principle of supremacy of vision. According to him, this is what stimulates company employees to be more creative, to set ambitious goals and to love their work.
"A realistic assessment of strengths and desires, including a comprehensive analysis of the environment and communication, makes the chain of the strategy implementation complete."
No matter the issue, you either go ahead and get to solve it or postpone it, by moving it to another setting for example, or you recognize it as an acceptable risk. In that case, you invest in your immunity. In this context, in addition to the institutional legacy of the fortitude ​​and innovative solutions, team thinking prevails at Galaxy.
The team is the most important thing at Galaxy
"The goals preset by the Galaxy Board are such that the spirit of collaboration becomes a key to achieving them. The first thing here is the team and the team thinking."
Vahan Dilanyan reveals that strategy leadership within the large company includes three important components: a team, innovative solutions and a fortitude approach.
According to him, when you believe in your vision, you are uncompromising in defining your goals, you take the most purposeful steps, and it is your faith that promotes success. This is what makes Galaxy competitive and a winner."
The size of the economic images
"It is very important to understand what values ​​you possess. Once you know it, it no longer matters which sector you work in, public or private. You work to contribute to the development of your country."
By moving to the private sector, Vahan Dilanyan realized that the images of economic development should be viewed from the point of view of a bigger picture.
He is sure that while working in the private sector, you should clearly understand to what extent your work contributes to the development of Armenia, to what extent it contributes to the public interest.
"And most importantly, you should have virtue. It is actually not so irrational. Virtue can become the most measurable and institutional thing. I am sure that in the era of noisy populism, the value of virtue will become the most important thing in the near future."
Analyzing the geopolitics
"In order to be published in the world's prestigious media outlets, you need to know exactly what you have to say to the world and how you will do it, and in many cases, do it with your team and friends. And when you understand that what you have to say is important for the benefit of your country, you do it easily."
The Catholic Herald, RT, Sputnik, The National Interest, Evansville Courier & Press – Vahan Dilanyan's analytical articles were published in these authoritative periodicals. He was also quoted in the report of the US Congressional Research Service. He doesn't publish articles now. The nature of the work at Galaxy allows to effectively combine the research and operational functions.
"In that sense, I am in harmony with my work. I am very interested in global changes and dedicate some of my free time researching those changes. Any problem and stage of development should be projected in the big global picture, and we should understand what is happening there and in the region that corresponds to this or that stage in Armenia.
The world is the paradigm of my comparison in any issue. Both in the personal life and at work, you need to be able to combine your experience with the best global experience. Your problems and achievements should not be measured at a narrow territorial level."
Coming out of crises
"If we want to effectively get out of crisis situations, we must set a high bar, list the means, and have a road map…"
According to Vahan Dilanyan, there is no unsolvable problem, and in any event it is necessary to get out of a challenging situation by collaborative work.
"As a mechanism of economic development, the public-private partnership model is very attractive, and the business has a great role to play in the recovery of Armenia's economy. The role of the business is crucial in crisis or post-crisis situations."
He also highlights the importance of implementing various capital expenditures.
Vahan Dilanyan believes that we should have big dreams and a consensus on Armenia's grand strategy: where we are going and by what means. And it must be clearly stated which values ​​are not subject to bargaining on that path. "For me, these values are the faith and virtue."
"In case of a country that has listed less traditionally perceptible resources, it is the value reinterpretation that could increase your potential. That is the key path to accumulating new and fresh energy."
Vahan Dilanyan believes that innovators who give priority to this principle are the driving force of Armenia's development and creation of a better future.
Lusin Mkrtchyan
Photos: Elen Gasparyan