The results of the "Art of Shadows" photography challenge were summed up in an event hosted by Ucom and "Creative Armenia" cultural foundation on April 26.
The winner Tigran Madoyan received the $2,000 prize awarded by Ucom for his "Armenian Unity Shadow".
More than 50 artists, filmmakers, calligraphists, designers and photography professionals were present at the event. The creative youth were honored with the presence of the President of Armenia Armen Sarkissian and his wife Nune Sargsyan.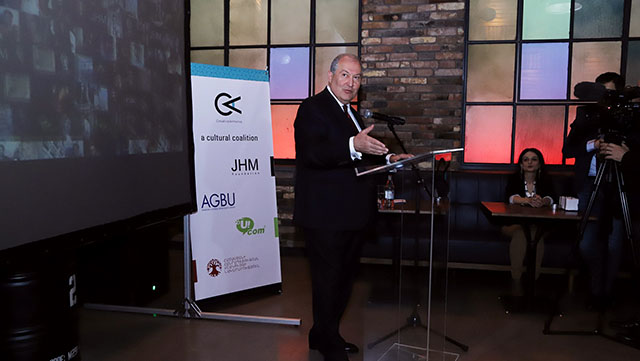 "Ucom has supported the creation and development of quality media content since its founding day. For years, Ucom has made serious financial investments, particularly for the creation of high quality Armenian TV content. With this step we've triggered the development of not only the Armenian filmmaking, but the professional growth of directors, screenwriters and artists, creating those quality products. New generation of photographers, creating quality content, should have also become a part of the entire process", said Hayk Yesayan, the Co-founder and Director General at Ucom.
During the event the new platform of "Creative Armenia Network" was presented, the members of which – musicians, filmmakers, writers and other representatives of the creative community – got acquainted with a range of programs, challenges and scholarship possibilities applicable to them.
"We're proud of our new partnership with Ucom", said Garin Hovhannisian, the Founding Director of "Creative Armenia" and added: "With our founding partner JHM Foundation, the strategic partner Armenian General Benevolent Union and our cultural supporters around the globe, we form a cultural coalition, that will boost the Armenian creative mind for the coming generations. Ucom joins efforts as a communications partner to ensure that Armenia's creative voices are heard on global platforms".
Talented creators who have been awarded a scholarship by the "Creative Armenia" and the Armenian General Benevolent Union, as well as the winners of the East-West Residency program to visit Villa Empain in Brussels, have also participated in the event and shared their experience and success stories with each other.
The official host of this non-formal gathering was Gurgen Khachatryan, the president of Ucom's board of directors and co-founder of the Galaxy Group of Companies. The Galaxy Group of Companies via all the companies forming the group is continuously implementing social impact projects to support the creative culture in Armenia.