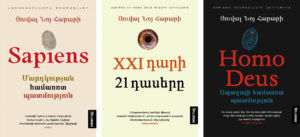 "Homo Deus: A Brief History of Tomorrow" is the third installment of Yuval Noah Harari's book trilogy, following "Sapiens" and "21 Lessons for the 21st Century".
It has sold over six million copies in only two years. Has been translated into 50 languages and is now, finally, available in Armenian as well. The book was translated into Armenian by Newmag Publishing House in cooperation with Galaxy Group of Companies.
"Galaxy Group of Companies is a corporation of human and future centric values. We value thought leadership and continous learning very highly. In this ever-changing world, Yuval Noah Harari's trilogy can prove to be a tremendous guidance on our path of self-development," said Sossi Khanikyan, Content & Creative Projects Officer at Galaxy Group of Companies, during the TV presentation of the book.
The book is about the unique age in which we live and one we will enter in the near future.
"Homo Deus: A Brief History of Tomorrow" breaks all stereotypes and changes our way of thinking, making it an irreplaceable work of the 21st century reality.