The journalists left Yerevan for Artsakh to cover the events in the zone of the Nagorno-Karabakh conflict.
"For 5 days, representatives of a dozen TV channels, print and network media covered events on the front line, presenting the official position of the Armenian side, retelling the stories of the people of Artsakh and recording the war crimes of the Turkish-Azerbaijani side," the company said.
It is also noted that the media came from France, Belgium, Italy, Spain, Greece, Germany, Switzerland and Great Britain. New groups are also expected to arrive. At the same time, the company did not report which exact media had arrived and the names of journalists in order to protect their privacy and from possible hostile aggression. It is also noted that the visit was organized in close cooperation with the European Friends of Armenia (EuFoA) organization operating in Brussels in compliance with the ethical rules and policies of this structure.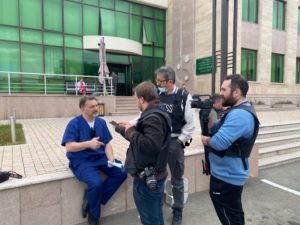 Gurgen Khachatryan, co-founder of Galaxy Group of Companies and chairman of the board of directors at Ucom, noted that today hostilities are taking place in the information field, and the enemy is trying to mislead the worldwide community. "We are hopeful that with the help of the coverage by the invited journalists, the international community will know the truth about the events, thus confronting with the reality and human stories," Khachatryan said.