The young generation will shape our future on the basis of quality education.  Galaxy Group of Companies and Ayb Educational Foundation launched joint projects through programs directed to advancement of youth, business and entrepreneurship education, start-up and idea management. Parties signed a memorandum of cooperation for joint activities.
"Galaxy Group of Companies continues to expand cooperation with the field of education prioritising promotion of innovation environment and culture through education. We are ready to invest the best practice and intellectual capital accumulated in the course of business in the field of education. Facing modern challenges, our vision is to overcome the crisis through knowledge-based and innovative solutions" said Head of CSR and Partnership of Galaxy Group of Companies Armen Khachikyan.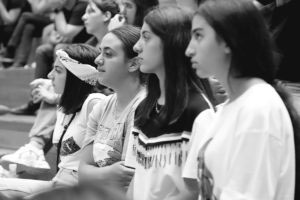 The idea of Ayb educational movement is to transform human life and the future of the country through education. And the objective is to create a culture of excellence in learning and to support the development of Armenian education. The whole community directs all its efforts and investments to advancement of competitive, creative generation of the 21st century, which is ready for changes. Every program or initiative implemented by Ayb is directed to this bright objective which is pursued by the devotees and supporters united around the idea of Ayb.
"We are very glad that today education unites more and more business representatives who assume great social responsibility taking part in formation and dissemination of the best educational environments and models.  I am sure through such partnership and consciousness we will succeed in carrying our mission of making systematic changes in the field of education through more steady steps" said executive director of Ayb Educational Foundation Sona Koshetsyan.
We should add that during the meeting, following the official part, Deputy CEO, Director for Strategy and Business Development of Galaxy Group of Companies Edgar Karapetyan shared his vision on the topic Decision making and professional orientation with the students of Ayb. The authors of the three interesting questions raised during the conversation were awarded Yuval Noah Harari's books Sapiens: A Brief History of Humankind, 21 lessons for the 21st century and Homo Deus: A Brief History of Tomorrow translated into Armenian with the support of Galaxy.
Galaxy Group of Companies founded by Aram Khachatryan, Gurgen Khachatryan and Artyom Khachatryan, is an Armenian holding company which represents 15 companies in 3 countries. The greatest part of the company's turnover is aimed at implementation of social responsibility programs in Armenia in the fields of education, social development and arts for the development of intellectual leadership and intellectual capital in Armenia.
 During 15 years of its activity Ayb Educational Foundation developed and implemented numerous programs directed to educational reforms, designed and established exemplary educational environments that have served as a stimulus for the development of the entire education system. Programs of Ayb are for everyone: projects have about 125 000 participants every year.